While they may be sister restaurants as part of the Market Street Group, Boggy Sand and Duke's each offer a different taste of island living.

Nestled in the heart of West Bay, in Jacques Scott Plaza, Boggy Sand opened in 2017 with the goal of delivering a menu full of local and international dishes, infused with Caribbean flavours, all served within a relaxed atmosphere with beautiful interior design.

"It's a great location in an under serviced market and opening up there made total sense," said Steve Shienfield, Executive Chef at Market Street Group "It's been great. We run lots of specials that people come back for."

Their most popular dishes highlight the diversity of their menu; from Jamaican chicken curry served with pumpkin rice, vegetables and plantain to their locally inspired pizzas, such as their Cayman-style beef pizza, fresh from their pizza oven.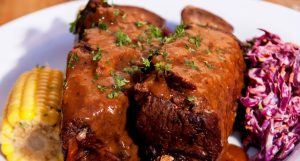 At Duke's, you'll find an extensive collection of surf and turf dishes set in a rustic-style beach shack, just by Public Beach on West Bay Road.

For Mr. Shienfield, Duke's represents what people love about Cayman; the laid-back lifestyle of enjoying a cold beer and great, local food with friends and family.

"We have a solid local clientele that comes day after day and week after week. There's also a lot of returning visitors who have been coming back to the island year after year," Mr. Shienfield said.

While each has a different menu and different vibe, there are two things that unite these restaurants.

"We all know Cayman can be an expensive place, so we wanted to give value to our customers," Mr. Shienfield said, "We don't want to just see you on a special occasion, we want to see you once a week."

"It's all about continuously improving on the great food that's in Cayman. [Our islands] have the best food in the Caribbean and we want to add to it day after day so that every visitor that comes, or every local that sits in our seats has the best food and best experience," Mr. Shienfield said.

It is for similar reasons that Mr. Shienfield and his team decided to get on board for Taste of Cayman 2019, bringing their restaurants down to the Festival Green, Camana Bay on April 6.

"Taste of Cayman is about celebrating all things Cayman, so we want to be part of it. We want to be an active member of the food community," Mr. Shienfield said.

Having worked at several Taste's before, Mr. Shienfield has an endless supply of amazing memories of the festival, including competing in an Iron Chef style cook-off, featuring lionfish as the main ingredient (as well as one or two Red Stripes!).

For 2019's event, Mr. Shienfield is most looking forward to seeing what dishes all the other vendors bring to the festival.

"We all know each other and we all like to one up each other a little bit," Mr. Shienfield said. "It's a fun atmosphere, and of course I'm looking forward to seeing Queen."

Get your tickets for Taste of Cayman today, so that you can enjoy all the dishes Boggy Sand, Duke's and many other wonderful vendors have to offer!