The Cayman Islands Department of Tourism (CIDOT), together with the Cayman Islands Tourism Association (CITA) hosted an intimate event in New York City on 28 March 2023 to showcase the Cayman Islands' impressive culinary scene, highlight homegrown talent, and provide top-tier U.S. media with a sneak peek of the upcoming Taste of Cayman Food & Drink Festival.
The CIDOT worked closely with two Caymanian chefs and a mixologist to curate a four-course menu of elevated Caymanian comfort food perfectly paired with craft cocktails. Each course was made with indigenous Caribbean ingredients and locally produced spirits to highlight Cayman's unique heritage. Chefs Jessica Moore (Taste This Life) and Sarasue McField (Sookie's Kitchen), along with mixologist Maya Grant (Fusion Mixology), represented the destination with Caymankindness and received praise for their menu from New York City's most seasoned journalists and food lovers.
"It has been nearly three years since we've been able to share our culture and engage with U.S. media, so this event was a beautiful and authentic way to reintroduce influential journalists in New York City to why we are known as the Culinary Capital of the Caribbean," said Mrs. Rosa Harris, Director of Tourism for the CIDOT. "We are honoured that we could showcase three talented Caymanian women during international women's month and are so proud of our brilliant partners and how they elevated our beloved Caymanian comfort food in a way that impressed culinary experts on this international stage. This event reinforces our position as a top luxury lifestyle travel destination, attracting food and culture lovers throughout the U.S."
Guests in attendance represented influential publications such as Travel + Leisure, The New York Times, TODAY, The Wall Street Journal, Thrillist, Parents Magazine, and more. Upon arrival to Chef's Dinner Table NYC, attendees were treated to a multi-sensory experience that emulated the beauty of the Cayman Islands – from the crystal waters and warm sandy beaches to the natural beauty of Crystal Caves, Pedro St. James, and the Queen Elizabeth II Botanic Park. The CIDOT engaged local partners for the event including Cayman Spirits Co., which graciously supplied Seven Fathoms Rum and Body Treats Etc., who created custom hand-poured artisanal candles for the event. The décor was thoughtfully styled to transport media attendees to the destination – with authentic items such as thatch baskets, Caribbean fruits, tropical flowers, lush greenery, and Caymanian artwork on display throughout the evening.
The "Taste of Cayman NYC" media dinner served as a warm reintroduction to the Taste of Cayman Food & Drink Festival, which will return following a three-year hiatus to celebrate its 35th anniversary on 13 May 2023. CITA executive director, Jay Ehrhart, was in attendance to discuss the beloved event and highlight the dozens of local, restaurants, and culinary partners who will be participating in the Taste of Cayman Food & Drink Festival.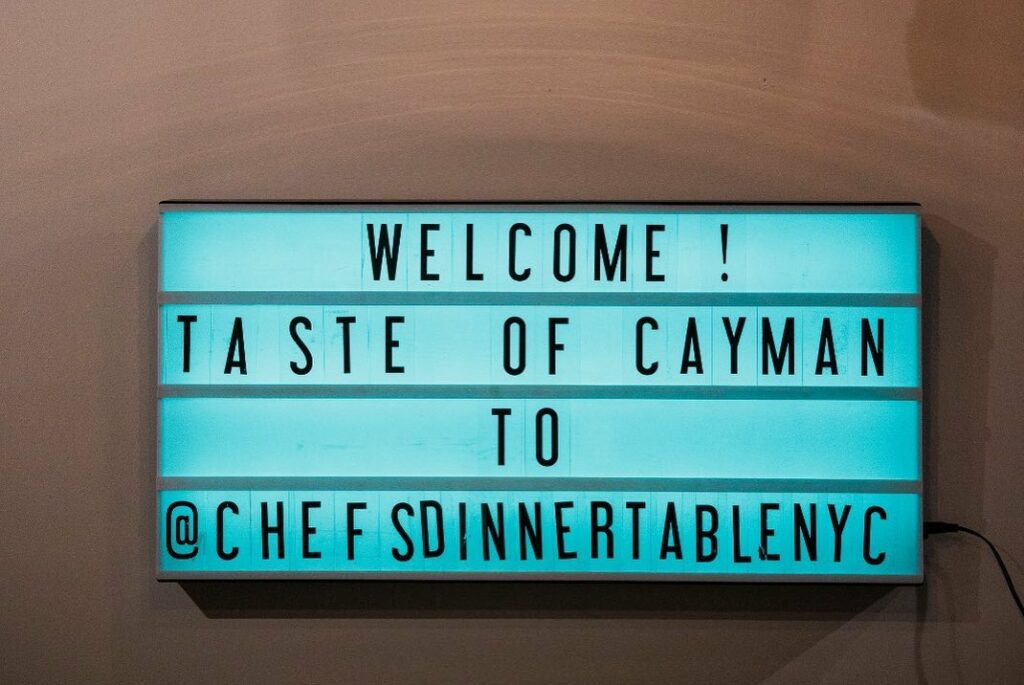 "Here in Cayman, we are fortunate to enjoy a robust calendar of annual events. The Taste of Cayman Food & Drink Festival is an authentic experience that provides a true glimpse into the multiethnic culinary melting pot that is Cayman," said Jay Ehrhart, CITA Executive Director. "Having the opportunity to bring a bite-size taste of that experience to an important key tourism market like New York City was such a treat. This year's event will be bigger and better than ever before, and we are excited to continue our celebration of Taste of Cayman's 35th anniversary!"
The media attendees were invited to learn more about the Taste of Cayman Food & Drink Festival by speaking with tourism executives and interviewing the chef and mixology partners and were encouraged to invite their readers to experience the festival first-hand!
Unique Caymanian recipes and cocktails were shared with the media to inspire additional awareness of the destination's impressive culinary scene. The chefs served up traditional Caymanian comfort food dishes such as conch and lobster fritters, tamarind cured white fish with cassava and seasonin' peppa-churri, Cayman beef rib with coconut callaloo and pumpkin puree, a tropical sorbet palate cleanser, cassava cake with hibiscus brown sugar brittle and grilled plantain ice cream, as well as vegan alternatives for each course. Each dish was complimented with a craft cocktail, such as "The Land Crab," a scotch-bonnet and thyme infused mezcal drink, "Sunday Funday" made with prosecco and passionfruit juice, "The Beloved Isle," a Caribbean-inspired Old Fashioned made with Seven Fathoms Rum, and "Seven Stars," a dessert cocktail also infused with Cayman Spirits.
"The Cayman Islands is rich with talented young chefs, mixologists, artists, and creative individuals," continued Mrs. Harris. "It has been a pleasure sharing the talents of Jessica, Sarasue and Maya – and we look forward to showcasing our Caymankind spirit at future events globally. "
About the Cayman Islands
Located 480 miles south of Miami in the tranquility of the western Caribbean, this trio of tiny islands is a premier destination for discriminating travellers, divers, honeymooners and families. World renowned for its idyllic beaches and recognised as a sophisticated, diverse and memorable tourist destination, the Cayman Islands offers spectacular recreational opportunities along with warm, impeccable service. To learn more about the Cayman Islands, please go to visitcaymanIslands.com or www.divecayman.ky or call your local travel agent.
About Taste of Cayman
Taste of Cayman Food & Drink Festival is an annual initiative of the Cayman Islands Tourism Association (CITA) which promotes the culinary excellence of the Cayman Islands food and drink sector. In 2023, Cayman's largest and longest running food and drink festival celebrates 35 years since it first began with a small number of restaurants from the Cayman Islands Restaurant Association meeting in a field to compete in a Chilli Cook-off. Today, the event has grown to attract thousands of festival goers to celebrate and experience the food and drink scene in the culinary capital of the Caribbean and enjoy the music and party atmosphere that it has become known for.
Visit www.tasteofcayman.org to buy tickets, find out more about participating restaurants, music artists and discover unique experiences for 2023.
© Taste of Cayman, 2023. 'Taste of Cayman' is a registered trademark wholly owned and operated by the Cayman Islands Tourism Association (CITA).